Prev
Next
CSG
Open CloudBox

A simplified approach to Private Cloud Data Center. Open CloudBox, the On-Premise Open Cloud brings the cloud to you, behind your own firewall, under your control.

CSG
CloudSites

CloudSites provides true vertical-scaling and supports load balancing and automated disaster recovery.

CSG
CloudFamily

Cloud Solutions designed to meet all your online business needs.

CSG
CloudCompute

CSG CloudCompute extends ProfitBricks's IaaS offering by providing Online Backup, Recovery and Restore of your applications.

CSG
CloudBroker

CSG CloudBroker provides a set of tools and well defined processes for Large Enterprises and Cloud Brokers to manage their cloud brokering challenges.
About OpenStack
OpenStack project and foundation was founded by Rackspace Hosting and NASA. OpenStack integrates code from NASA's Nebula platform as well as Rackspace's Cloud Files platform. OpenStack is a collaborative software project among several big players like Canonical, Cisco, DELL, HP, IBM, Nebula, RedHat, SuSe and more than 170 companies in the cloud computing space.
The technology behind OpenStack consists of several projects delivering various components for a cloud infrastructure solution such as Nova Compute, Swift Object storage, Glance Image service, Horizon Dashboard, Keystone Identity Service.
OpenStack is Open Source Cloud Operating System
The code for OpenStack is freely available under the Apache 2.0 license. Anyone can build it and run it on any operating system, extend it and submit changes and enhancements back to the project.
OpenStack is for large and small businesses
OpenStack is used as well by large coperations as by small busiensses like us.
HP has launched his Public Cloud offering based on OpenStack to provide cloud servers and storage. ISV's and hosting providers are deploying OpenStack in their own private cloud. MercadoLibre has over 6,000 VMs managed by OpenStack.
Deutsche Telekom has created a "Business Marketplace", whose functionality is based on OpenStack. The newest RackSpace Cloud offering is running on top of OpenStack, they are eating their own dog food now!
OpenStack is the foundation to provide Open PaaS and Open SaaS
VMware's Cloud Foundry, RedHat's OpenShift Origin and Appscale, the Open Source Version of Google App Engine are running on top of OpenStack to provide Open PaaS and Open SaaS.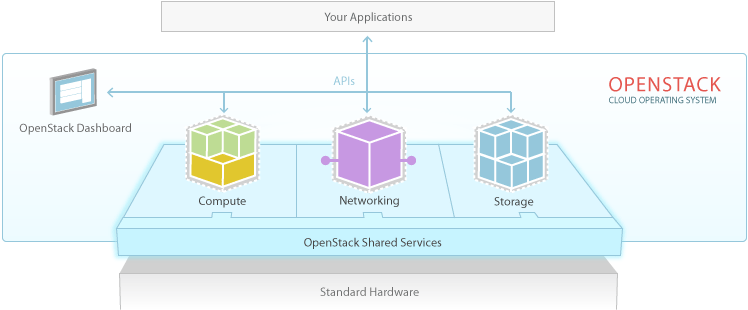 Cloud Computing Labs
Try our supported Open Cloud Operating Systems:
Please contact us to get your account credentials.