Prev
Next
CSG
Open CloudBox

A simplified approach to Private Cloud Data Center. Open CloudBox, the On-Premise Open Cloud brings the cloud to you, behind your own firewall, under your control.

CSG
CloudSites

CloudSites provides true vertical-scaling and supports load balancing and automated disaster recovery.

CSG
CloudFamily

Cloud Solutions designed to meet all your online business needs.

CSG
CloudCompute

CSG CloudCompute extends ProfitBricks's IaaS offering by providing Online Backup, Recovery and Restore of your applications.

CSG
CloudBroker

CSG CloudBroker provides a set of tools and well defined processes for Large Enterprises and Cloud Brokers to manage their cloud brokering challenges.
CeBIT celebrates AppScale
CeBIT 2013, Hannover March 5th - 9th.
This week on CeBIT 2013 we had the pleasure and the honor to show AppScale in action running on Apache CloudStack, OpenStack and show how it runs on Amazon EC2 and on Eucalyptus private cloud and could get valuable feedback from our visitors coming from China, Brazil, Poland, India, Emirates and Germany and could see how cloud developers and IT managers was excited to see AppScale in action and understand the real value of AppScale for their business and research activities. We could celebrate AppScale each day on several partys with one or more German Beers for the health and the great work of a great team at AppScale Systems.

About AppScale
Where the Sun shines over the cloud!
AppScale is an open-source cloud platform for Google App Engine applications developed at University of California, Santa Barbara and is in active development by a great team at AppScale Systems and supported through AppScale Community. Appscale supports Java, Python and Go and brings the Apache Hadoop API to your Google App Engine applications. AppScale supports all kind of datastores such as Cassandra, Mongo DB, HBase, Hypertable, MemcachedDB, MySQL Cluster and Redis. Each datastore implements the AppScale DB interface, which maps to App Engine applications. AppScale can be extended to support any application framework and overcomes the limitations of Google App Engine by providing an open and extendable API.

With AppScale you can run Google App Engine applications in your private cloud without any modifications to the application. AppScale is the greatest Open PaaS solution to test, debug and run Google App Engine applications in your private cloud behind your own firewall or move them on Google's App Engine public cloud infrastructure.

You can deploy Appscale on EC2 or run it on top of Open Cloud Operating Systems such as Eucalyptus, Apache CloudStack, OpenStack and (non-) virtualized clusters or even on bare metal.
CeBIT celebrates AppScale!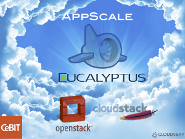 Download our presentation and see how AppScale rock and rolls on CeBIT 2013!